Recruit must meet all following requirements:
We only accept men (women in naval reconnaissance do not serve in combat units). Possible candidates should contact other units (US ARMY, US NAVY, USAF). We provide information and contacts.
Minimum age of 17 years (we are accepting applications since the age of 16).
Physical and psychological resilience and adequate satisfactory health.
You need to know your blood type.
Ownership of US combat dress (trousers, blouse, headgear is not required), all woodland camo. US combat shoes (just start with any military, high, black, leather shoes).
Possibility of legally obtaining funds for the gradual purchase of missing equipment, as well as maintaining combat readiness (ammunition, food, fare, restoration of damaged or used equipment).
Certain independence in relation to family members (so that they do not prevent you from participating in events).
Moral integrity and honesty.
Do you meet these requirements and do you really think you want it?
Are you sure you don't mind rain, snow, heat, cold, nervousness, stress, strain, hunger, thirst, difficult insects, wet clothes, heavy equipment, aching back? Because exactly these will be your companions at the exploration events from Marina.
It is not a "pleasant leisure". It is an exhausting, considerably physically and mentally demanding hobby. We are not going to relax at the event. Only after returning home we can rest and heal for the rest of the week.
Think well if it's not better to spend a weekend with yours (girl, dog, computer game, friends, TV, mum – delete as appropriate) warm at home, with a plate full of food.
Think twice!
It is true that "marines need a few good guys", who you unfortunately are not…
… but even if you accidentally managed to cross Boot camp, sit down somewhere quiet and ask yourself if you are willing:
To cut your swanky hair?
To remove earrings, rings, and similar effeminacy?
To invest in expensive equipment?
To buy an expensive rifle?
To tolerate grimaces and condemnation of unapprehensive fellow citizens?
To suffer from the flouts of more experienced warriors?
To go to the event in any weather, even if you don't want to?
To crawl in mud? Wade rivers and swamps?
Listen to orders you may not like, even from the younger ones?
After all… Do you still want to try it?
---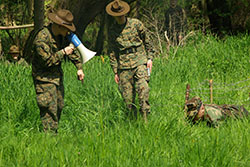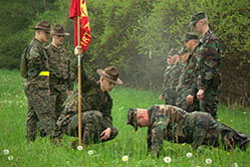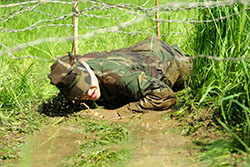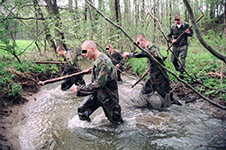 ---
Are you in?
If you really mean it, contact us on cooper@namornipechota.eu for application form. Fill it in and send it back.
Depending on the state of affairs, you will be asked to participate in the event with the unit. If you still wish to join, you can take part in other unit actions as an "observer" and "backup" by appointment with the unit command.
The traditional Boot Camp follows (although it is not a legendary 13 weeks of hell, it is a crucial moment in transforming a civilian into a "Mariner").
Trial Period with Unit (A Co.) during which your validity will be shown to the team. Usually takes 1 year. During this, basic training with the unit takes place.
Upon successful completion, you will be assigned to a combat unit and become a full-fledged unit member (B Co.).
The date of the next boot camp will be communicated in person. However, it is usually one to two terms per year.
Some of the Recruitment Videos:
2006
2008

2009

2012

2013